After two years , the Vancouver International Children's Festival (VICF) is finally back. The 45th Children's Art Festival will be held on-site on Granville Island from May 31 to June 5, and the online version will also be online from May 31 to June 12.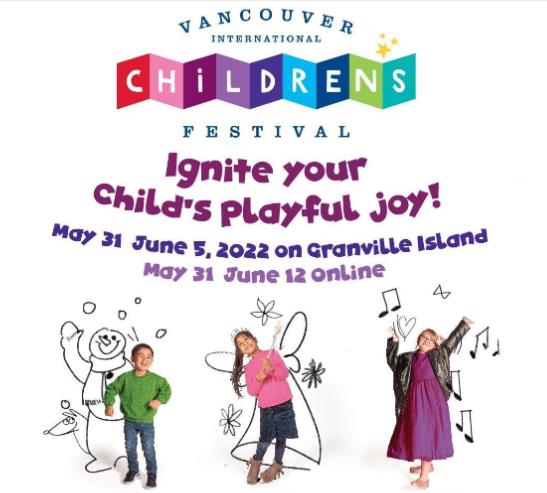 World-class drama, music, dance, acrobatics, puppet shows and storytelling will once again delight children. This year, 18 professional performing artists from as far away as Denmark, Ireland and the United Kingdom will bring more than 80 wonderful performances.
Katharine Carol, the festival's artistic and executive director, said: "It is with great excitement that we welcome children and their families to the 45th Vancouver International Children's Festival. The past two years have been more or less in our lives. It has been changed. During that time, we deeply felt the importance of art in changing our lives." She said that the Children's Art Festival is a place where art in various fields can complement each other, and everyone can experience art in the event The joy expressed is more open to the feeling of acceptance and joy. This year's festival has prepared a "feast", from exciting performances to interactive visual arts activities, all of which will make the whole family happy. This year's special guests include Juno Music Award winner Fred Penner, Aboriginal dancer Dancers of Damelahamid, and vaudeville star Kalabante from Africa.
Live shows include Tricoter Weaving (Foolish Operations), The Cat Came Back (Fred Penner), Ginalina, Crisis on Planet Z! (Monster Theatre), One of a Kind, A Story of a House That Turned into a Dot (Teatret Gruppe 38), Won-Ma Africa (Kalabanté Productions), Living With (Her Tribal Roots), Parents Are Still a Drag (Zee Zee Theatre), Africa Oyé, Future Music, Underwater Archeologist, Forgotten Folk Songs Workshop (Ginalina) .
Online tickets are per family Tickets for the Children's Arts Festival are now on sale and can be purchased online at ChildrensFestival.ca or at the festival site from May 31 to June 5 at the box office between the Festival House and Waterfront Theatre on Granville Island .
On-site tickets are $12.50 for children/seniors and $22 for adults (excluding service charge and tax). All live performance tickets include an Activity Village bracelet, which allows the wearer to participate in all art activities in the Activity Village, with a total of more than 15 events. Online tickets are based on families, and each ticket is $24 (excluding service charges and taxes). For only $24, the whole family can watch together, unlimited times.