SUNWINS HEALTH donated 300,000 masks to city of Vancouver
While Canadians are still waiting to receive their vaccinations and are still combatting the COVID-19, a Vancouver-based mask manufacturer has donated 300,000 high-quality, medical grade masks to the Richmond Mandarin Lions Club for Vancouver School board. This ceremony, hosted on Friday 21st May Friday, 2021 was held at SUNWINS HEALTH factory in south Vancouver.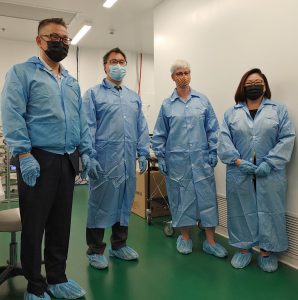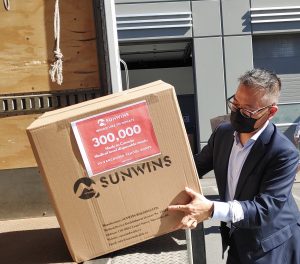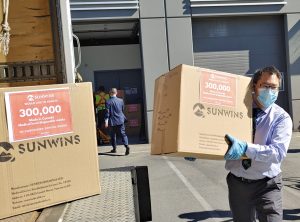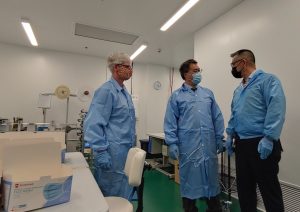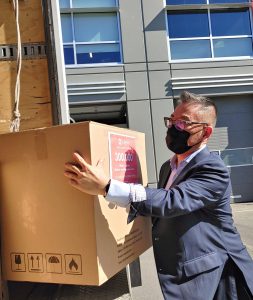 When Allan Wong, member of Vancouver School Board, knew that SUNWINS HEALTH would donate 300,000 masks to Vancouver schools, he was very surprised. He said that these masks are timely help for teachers and students in Vancouver schools. Such donation indeed adds more confidence in epidemic prevention.
Trustee Janet Fraser said that the school's prevention measures has attracted attention from public. These masks can provide a safer environment for school students and faculty members. Appreciate the generous donation from SUNWINS HEALTH.
" In fact, everyone knows that the COVID19 and its variant is still with us. As for now, wearing masks is one of the best measures. " said Michael Ching, owner of SUNWINS HEALTH, "We are donating masks mainly to schools this time, because teachers and students are very important to the community. In fact, senior care houses are also another focus."
The reason for choosing Richmond and Vancouver first, Michael Ching pointed out that is because SUNWINS HEALTH is in Richmond and the factory is in Vancouver. Both cities are supportive during the establishment of the company. Therefore, he is willing to donate masks to give back to the society.
 "Should any communities need masks please do not hesitate to contact us. SUNWINS HEALTH is willing to stand up and do our best to contribute to the society. " said Michael Ching
He also mentioned that SUNWINS HEALTH started to product medical-grade masks last year (2020) with a monthly production of 3 million to 4 million masks. All products are locally produced in Vancouver and meet the ASTM medical mask standards required by Health Canada. The factory is also equipped with inhouse inspection equipment. Since the online platform went on live in 2020, the mask quality has been widely recognized by users.
In addition to the Vancouver School Board Allan Wong and Janet Fraser, Helen Quan, a representative of Richmond Mandarin Lions Club attended the donation ceremony.